Derek Jones from The Shape of Code
What do we know about software effort estimation, based on evidence?
The few publicly available datasets (e.g., SiP, CESAW, and Renzo) involve (mostly) individuals estimating short duration tasks (i.e., rarely more than a few hours). There are other tiny datasets, which are mostly used to do fake research. The patterns found across these datasets include:
developers often use round-numbers,
the equation: , where is a constant that varies between projects, often explains around 50% of the variance present in the data. This equation shows that developers under-estimate short tasks and over-estimate long tasks. The exponent, , applies across most projects in the data,
individuals tend to either consistently over or under estimate,
developer estimation accuracy does not change with practice. Possible reasons for this include: variability in the world prevents more accurate estimates, developers choose to spend their learning resources on other topics.
Does social loafing have an impact on actual effort? The data needed to answer this question is currently not available (the available data mostly involves people working on their own).
When working on a task, do developers follow Parkinson's law or do they strive to meet targets?
The following plot suggests that one or the other, or both are true (data):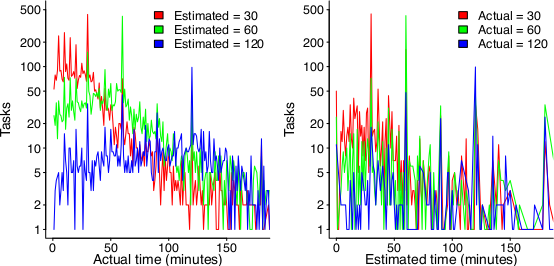 On the left: Each colored lines shows the number of tasks having a given actual implementation time, when they were estimated to take 30, 60 or 120 minutes (the right plot reverses the role of estimate/actual). Many of the spikes in the task counts are at round numbers, suggesting that the developer has fixated on a time to finish and is either taking it easy or striving to hit it. The problem is distinguishing them mathematically; suggestions welcome.
None of these patterns of behavior appear to be software specific. They all look like generic human behaviors. I have started emailing researchers working on project analytics in other domains, asking for data (no luck so far).
Other patterns may be present for many projects in the existing data, we have to wait for somebody to ask the right question (if one exists).
It is also possible that the existing data has some unusual characteristics that don't apply to most projects. We won't know until data on many more projects becomes available.